Frankie D and I had a great conversation about the two narrative nonfiction books I've written based on my family stories.
Trapped: The 1909 Cherry Mine Disaster was born from learning as a tiny girl that the grandfather who died before I was born, John Tintori, survived the historical mine disaster. Most of the 259 victims, like my grandfather, were Italian immigrants who came from Apennine towns in the province of Modena, Italy.
Unto the Daughters: The Legacy of an Honor Killing in a Sicilian American Family comes from an eighty-year family secret kept by my maternal grandmother's side of the family, immigrants from Sicily.
Frankie D is a great interviewer and I look forward to meeting him in person at Casa Italia's Literati Day. I hope you enjoy listening to us as much as I enjoyed speaking with him on Italian American Life Podcast.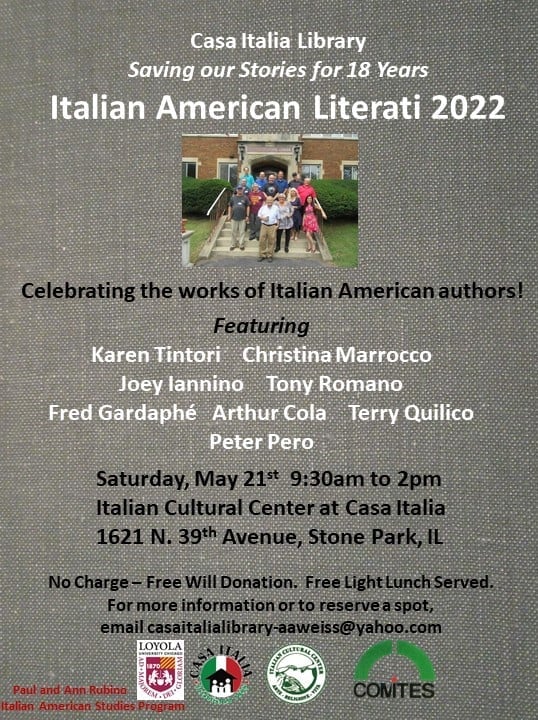 I am excited to join Christina Marrocco and fellow Italian American authors for Casa Italia's 2022 Literati Day on Saturday, May 21, 2022. This yearly celebration of Italian American authors will be in person this year and will also be taped and made available later on YouTube. I will be discussing Trapped: The 1909 Cherry Mine Disaster, a tragedy of historical significance that took place less than 90 miles from Chicago, and also Unto the Daughters: The Legacy of an Honor Killing in a Sicilian American Family, and talking about publishing today.
Christina will be reading from her debut novel, Addio, Love Monster, which will be published by Ovunque Press on June 1, 2022, a beautiful book I highly recommend. 
To register, contact Casa Italia Library.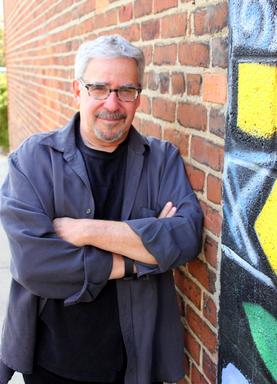 Mitten Moments celebrates Michigan authors year-round. Join me for a lively conversation with Donald Levin, award-winning fiction author, poet, retired Professor of English and Dean of the Faculty at the former Marygrove College in Detroit. His novels include seven Martin Preuss detective mysteries, set in the Detroit suburb, Ferndale, Michigan and his latest release, Savage City, a standalone novel, set in 1932 Detroit.
Michigan Moments is an ongoing program produced by Detroit Jewish Book Fair, the country's oldest Jewish Book Fair. I hope you enjoy my converation with Donald on Michigan Moment's via on YouTube, where you will find a library of other author interviews.
Join us here: Mitten Moments with Donald Levin.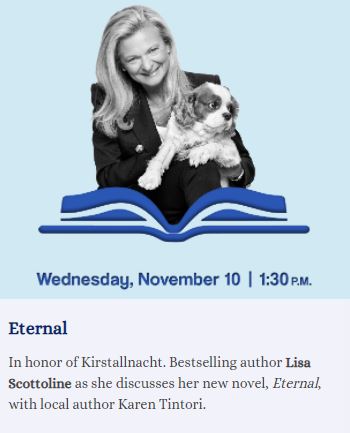 Lisa Scottoline and I barely caught our breath as we took this deep dive into her 2021 release, Eternal — the sweeping, page-turning novel that has been simmering in her soul since her college days. Fueled by true events, this epic historical saga centers on a love triangle that unfolds in Rome under the creeping shadows of fascism, WWII, and the draconian racial laws that changed the lives of Rome's Jewish citizens forever.
To view our presentation archived on YouTube, click this link.