Karen Tintori knew she'd be a writer from age twelve. As a child, she walked ten blocks to the public library, checked out as many books as she could carry between her interlocked fingers and her chin, read them quickly and returned for another stack.
Before she was 13, she'd read the entire children's section and bristled when the librarians would not permit her to borrow books from the adult section until she was of age. Patience was a lesson she'd begin to learn early--the librarians invited her, instead, to re-read the children's section.  
Is your book club reading one of Karen's books? Feel free to drop her a note to arrange a phone or Skype call to join your group's discussion. Karen loves hearing from her readers, enjoys traveling to meet them, and welcomes speaking invitations.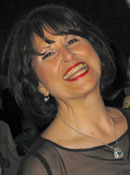 Karen Tintori is an internationally bestselling author of fiction and non-fiction whose novels, written with Jill Gregory, have been translated into more than 25 languages. Their Something Borrowed, Something Blue was excerpted in Cosmopolitan Magazine and became a CBS-TV Movie-of-the-Week. As research for the novel, Karen and Jill spent four days as extras in the movie Used People, which starred Marcello Mastroianni, Kathy Bates, Jessica Tandy, Shirley Maclaine, and Marcia Gay Harden -- and survived the cutting room floor.
The Book of Names, their hidden history thriller published by St. Martins, spent 19 weeks on German bestseller lists and sold to 22 countries. Their second thriller, The Illumination, sold to seven foreign countries.
Karen has also written two nonfiction books detailing the Italian immigrant experience. Her critically acclaimed solo work, Trapped: The 1909 Cherry Mine Disaster, was among the Chicago Tribune's 2002 Favorite Books and has been optioned for film. Unto the Daughters: The Legacy of a Honor Killing in an Italian-American Family, also from St. Martin's, was taught in Italian American Studies at the Harvard Extension School and in English Studies at Elgin Community College in Illinois and St. John's University in New York City. Unto the Daughters was nominated for a 2008 Michigan Notable Book Award.
Karen's first ever short story, Down Under, appears in Cast of Characters, a Novelists Inc. anthology of 28 short stories published by Fiction Studio Books. She is a contributor to Italian Women in Chicago, an anthology published by the Italian Cultural Center at Casa Italia, which also sold to Italy; and has been published in She Rises: How Goddess Feminism, Activism, and Spirituality? Volume 2, an anthology by MAGO Books. She has written for The Fifth Estate, The Detroit Jewish News, Primo Magazine, Ovunque Siamo, and The Hamtramck Citizen (recapping her half hour alone, backstage, with The Beatles).
A popular speaker at book clubs and book fairs, she has presented at several IASA (Italian American Studies Association) conferences and at the John D. Calandra Institute of Italian American Studies at City University of New York. She was among the authors Barnes and Noble founder and chairman Len Riggio invited to march with him in the 2017 New York City Columbus Day Parade. As parade grand marshal, Riggio extended the honor to Italian American authors, celebrating their contribution to literacy. A book tour veteran, Karen has been interviewed on numerous radio and television programs, including C-Span 2's Lincoln Library Round Table, and BackStory, the internet podcast of Virginia Humanities.
Karen graduated from Wayne State University in Detroit, where she majored in journalism, covered the campus for the New York Times, and met her future husband over typewriters at the student newspaper. She was an assistant editor on the FTD FLORIST Magazine (for which she spent a week in the White House covering the floral preparations for Trisha Nixon's wedding) and had a successful career in public relations before she began writing books. She is a member of NINC (Novelists Inc.), ITW (International Thriller Writers), Sisters in Crime, and IASA (The Italian American Studies Association). She crafts her acclaimed page turners, which numerous fans report devouring in a single sitting, by teaming her journalist's head with her novelist's heart.
Karen is active in the Detroit Jewish community and in Italian genealogy. She has visited Italy numerous times, studies Italian, and holds dual American and Italian citizenship. In 2019, she and her husband spent a month in Recanati, Italy, immersed in an intensive Italian language program at The Scuola Dante Alighieri-Campus L'Infinito, supported by Camerino University. They passed! She lives in Michigan with her husband and one of their two sons. Their home is filled with books, many stacked in Karen's to-be-read pile.
What's In A Name?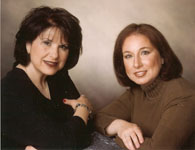 Karen Tintori and Jill Gregory previously co-authored two novels as Jillian Karr. For nearly a decade, Karen and Jill concentrated on their individual careers while trying to figure out how to "out" the Lamed Vovniks. 
Karen's legal American name appears on her first non-fiction collaboration, What Does Being Jewish Mean?  By the time she and Jill wrote their first novel together, they decided that since they write with one voice they'd do it as one person--Jillian Karr, a combination of their first names.  For Karen's first solo work of narrative nonfiction, Trapped: The 1909 Cherry Mine Disaster, she began writing under her legal Italian name.
Contact Information
To contact Karen email her.