By Karen Tintori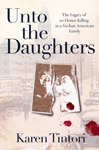 Unto the Daughters is the story of a secret guarded so fiercely for nine decades that members of Tintori's family died without ever learning of it. Unto the Daughters began with an obliterated entry on a passport - discovered during a genealogical quest - and a reluctant revelation of an ancestor who was so systematically eradicated from her family tree that many relatives born since her murder still have no inkling that she ever existed.
Unto the Daughters is Karen Tintori's sixth publication and her second solo book.
Story
Karen Tintori thought she knew her family tree.
Her grandmother Josie had emigrated from Sicily with her parents at the turn of the century. They settled in Detroit, and with Josie's nine siblings, worked to create a home for themselves away from the poverty and servitude of the old country. Their descendants were proud Italian-Americans. But Josie had a sister nobody spoke of. Her name was Frances, and at age sixteen she fell in love with a young barber. Her father wanted her to marry an older don in the neighborhood mafia---a marriage that would give his sons a leg up in the mob.
But Frances eloped with her barber, and when she returned home a married woman, her fate was sealed. Even eighty years and two generations later, Frances was not spoken of, and her memory was suppressed.
Unto the Daughters is a historical mystery and family story that unwraps the many layers of family, honor, memory, and fear to find an honor killing in turn-of-the-century Detroit. Tracing the history and insular world of Italian immigrants back to the old country, Karen Tintori shows what they came from, what they hoped for, and how the hopes and dreams of America fell far short for her great-aunt Frances.
Reviews
"Switching back and forth between rural Sicily and early 20th century Detroit, Unto the Daughters reads like a nonfiction version of the film Godfather II--if it had been told from the point of view of a female Corleone. In exploring her own family's secret history, Karen Tintori gives voice not just to her victimized aunt but to all Italian-American daughters and wives silenced by the power of omerta. Half gripping true-crime story, half moving family memoir, Unto the Daughters is both fascinating and frightening, packed with telling details and obscure folklore that help bring the suffocating world of a Mafia family to life."
---Eleni Gage, author of North of Ithaka: A Granddaughter Returns to Greece and Discovers Her Roots
"Nearly every family has a skeleton in its closet, an ancestor who 'sins' against custom and tradition and pays a double price -- ostracism or worse at the time, and obliteration from the memory of succeeding generations. Few of these transgressors paid a higher price than Frances Costa, who was brutally murdered by her own brothers in a 1919 Sicilian honor killing in Detroit. And fewer yet have had a more tenacious successor than Frances's great-niece, Karen Tintori, who refused to allow the truth to remain forgotten. This is a book for anyone who shares the conviction that all history, in the end, is family history."
---Frank Viviano, author of Blood Washes Blood and Dispatches from the Pacific Century
"Tintori's poignant memoir of the recent discovery of her great-aunt's murder deeply underscores her Sicilian culture's troubling subjugation of its women. Tintori (Trapped: The 1909 Cherry Mine Disaster) recounts how in 1993 her aunt and mother reluctantly told her of an obliterated name from her great-grandfather's passport to America. Gradually Tintori discovers the fate of the missing youngest daughter, Francesca, by working backward in time to when the Costa family first made its way to Detroit from Corleone, Sicily, in 1914. The family settled into comfort in Little Sicily: the girls enjoyed scant education and were married off early, while the boys worked at the Ford factory and ran with rum-runner gangs. Although her sister Josie made a successful love match, Francesca pined for the barber's son, but was forcibly engaged at 16 to a scion of the Mafiosi in order to better her family's fortunes. Francesca eloped, to the family's dishonor, and was probably murdered (shackled, dismembered and thrown in the waters of Belle Isle) by her brothers when she dared to return. Because of her family's wall of silence, Tintori finds no sense of catharsis here, only a harrowing tale of sorrow and shame. " 
---Publishers Weekly
Additional Information
Purchase - Follow these links to purchase Unto the Daughters from online retailers.
Excerpt - Read the first few pages of Unto the Daughters.
Unto the Daughters Media Kit - Includes press release.
Details
Hardcover Editions

Publisher: St. Martin's Press (July 2007)
Language: English
ISBN-10: 0-3123-3463-X
ISBN-13: 978-0-3123-3463-5
Contact Information
Media/Publicity Contact
Publicity  
St. Martin's Press 
175 Fifth Avenue
New York, NY 10010 
646-307-5555 phone