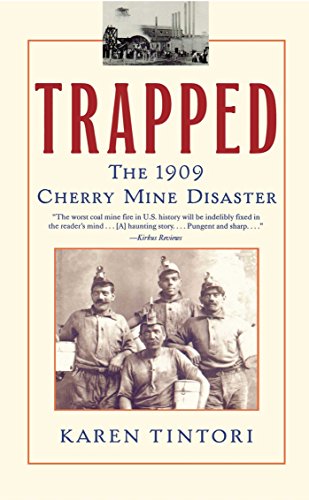 By Karen Tintori
One of the Chicago Tribune's Favorite Books of 2002, Trapped is the story of the worst coal mine fire in U.S. history, and still stands as that country's third worst coal mine disaster.  It is a story of heroism and cowardice, faith and despair, tragedy and survival against incredible odds--a true story that still resonates today.  The Cherry Mine Disaster was a catalyst for changes in mining and child labor laws, and the first application of Workers Compensation in the U.S.
Story
Inspired by a refrain of her girlhood -- "Your grandfather survived the Cherry Mine disaster" -- Karen Tintori began a search for her family's role in the harrowing tragedy of 1909. She uncovered the stories of victims, survivors, widows, orphans, townspeople, firefighters, reporters, and mine owners, and wove them together to pen Trapped, a riveting account of the tragic day that would inspire America's first worker's compensation laws and hasten much-needed child labor reform.
On a Saturday morning in November of 1909, four hundred and eighty men went down into the mines as they had countless times before. But a fire erupted in the mineshaft that day and soon burned out of control. By nightfall, more than half the men would either be dead or trapped as officials sealed the mine in an attempt to contain the blaze. Miraculously, twenty men would emerge one week later, but not before the Cherry Mine disaster went down in history as the worst ever coal mine fire in the U.S.--and not before all the treachery and heroism of mankind were revealed.

Reviews
"Tintori, the granddaughter of a mineworker in Cherry, Ill., has brought to life the worst coal mine fire in U.S. history... Particularly heartrending is the author's description of the 21 men who were trapped underground for eight harrowing days after the mine was sealed to smother the fire... Tintori's engaging prose keeps readers on the edge throughout her story."
--Publisher's Weekly
"The worst coalmine fire in US history will be indelibly fixed in the reader's mind thanks to newcomer Tintori's haunting story of the disaster... Investigations into the incident helped bring about worker's compensation and child labor laws.  Pungent and sharp, a terrible tale of loss that at least led toward future protections." 
--Kirkus
"Tintori's grandfather survived the fire, and her genealogical quest developed into an extensive investigation of the calamity. Although this is her first book, the author's writing skills are evident; she crafts a compelling account of beleaguered miners trapped in a living hell and their distraught families on the surface...Tintori has presented a very accessible and gripping account of a human tragedy that elicited both the best and worst from those involved. Highly recommended." 
--Library Journal 
"Tintori's text reads more like a novel than button-downed history."
--Illinois Heritage Magazine
"Tintori has rescued this near-forgotten catastrophe from obscurity, reifying one of the most significant lessons learned from, among other catastrophes, the terrorist attacks against the U.S. on Sept. 11, 2001: Ordinary people can, in time of crisis, display the most extraordinary courage and resolve. ...[The] anecdotes--somehow, calling them anecdotes seems almost disrespectful--endow "Trapped" with a grave, austere, scrupulous beauty. Tintori never overstates her case. She doesn't have to; the notes left by the trapped miners, some of whom survived and some of whom didn't, are more eloquent than the output of a dozen lyric poets on their best days."
--The Chicago Tribune
"It is everything that such a book ought to be, and much more: A gripping narrative, powerful in its language and extraordinarily well-constructed. A portrait of elemental human strengths and frailities at their best and worst. A reminder of the terrible price paid by immigrants to establish themselves in America. Karen Tintori's account of the Cherry Mine Disaster is a classic of its kind.   My compliments to Ms. Tintori, and to Washington Square Press on its publication of her impressive work."
--Frank Viviano, author of Blood Washes Blood: A True Story of Love, Murder, and Redemption Under the Sicilian Sun 
"A riveting generational story and a terrific reporting job -- altogether, a worthy memorial to those who have gone down the coal mines never to return; Ms Tintori's grandfather, who survived the Cherry Mine Disaster, must be smiling."
-- John N. Maclean, author of Fire on the Mountain: The True Story of the South Canyon Fire
Additional Information
Purchase - Follow these links to purchase Trapped from online retailers.
Off The Cuff Interview - An October 2003 interview with Dave Cronen of Louisville Public Radio station, WFPL.
Afternoon Magazine Interview - An October 2002 interview with Celeste Quinn on University of Illinois Public Radio station, WILL.
Eight Forty-Eight Interview - A February 2002 interview with Richard Steele on Chicago Public Radio, as re-broadcast in January 2006.
The Cherry Mine Disaster Website (Unofficial) - Ray Tutag Jr., who built the incredible model of the Cherry Mine housed in the Cherry Library, has compiled this site filled with information and images of the disaster.
Details
Hardcover Editions

Softcover Editions

Language: English
ISBN-10: 0-7434-2195-7
ISBN-13: 978-0-7434-2195-9

Contact Information