By Jill Gregory and Karen Tintori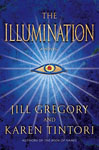 Museum curator Natalie Landau fights to learn who murdered her reporter sister in Iraq -- and battles powerful forces pursuing the mysterious gift her sister sent her before she died -- an evil eye necklace concealing a biblical treasure from the dawn of creation possessing the power to transform -- or destroy -- the world.
The internationally bestselling writing team of Jill Gregory and Karen Tintori return with a new mystical thriller in the vein of The Book of Names.
Story
It gleamed up at her like a small golden egg encrusted with jewels of lapis lazuli, carnelian, and jasper. The classic eye, one of the most ancient symbols of protection.
Natalie Landau, a museum curator with an expertise in Mesopotamian protective amulets and magical beliefs, has received a puzzling gift from her sister Dana--a necklace with a blue evil eye pendant on it. The Evil Eye is a symbol of protection common throughout the world, with a history connecting it to many religions.
When Natalie learns Dana was murdered only hours after sending the gift, she begins to think her evil eye amulet had something to do with her sister's death. As she races to discover the origin of the pendant, Natalie is sucked into an international battle between powerful religious factions, each battling for the eye, which turns out to be far more valuable—and far more powerful--than she could ever imagine.
Reviews
"The intrigue is high. The excitement is palpable. The story is priceless. Combining mysticism, history, and fanaticism, this is one thriller that's simply impossible to put down until you've reached the ending - breathless and so well satisfied. Tintori and Gregory are first rate story tellers!"
--M.J. Rose, international bestselling author of The Memorist
"Jill Gregory and Karen Tintori return with another extraordinary thriller after their outstanding The Book of Names. Their new novel, The Illumination, skillfully weaves history, ancient art, dark legend and religious fanaticism into a story of high-stakes terror and international intrigue. The excitement stays at a high pitch from the opening scene at the looted Iraqi National Museum to the final sensational twist. A page-turner. extraordinaire."
--New York Times bestselling author Douglas Preston, co-author of The Monster of Florence and The Wheel of Darkness
"Stirring and imaginative. A tense, intelligent, and surprising thrill. Drum tight in execution, fueled by imagination, the plot is as sharp as a broken shard of glass. If you like your tales loaded with intrigue, treachery, and a wealth of secrets you're going to love The Ilumination."
-- New York Times bestselling author Steve Berry, author of The Charlemagne Pursuit and The Templar Legacy
Additional Information
Purchase - Follow these links to purchase The Illumination from online retailers.
International Covers -  Here are the covers from some of the international editions of The Illumination. 
Details
Hardcover Editions

Publisher: St. Martin's Press (January 2009)
Language: English
ISBN-10: 0-3123-7597-2
ISBN-13: 978-0-3123-7597-3

Audio Editions
Publisher: Brilliance Audio (January 2009)
Language: English
ISBN-10: 1-4233-4351-4 (Audio CD - Unabridged)
ISBN-13: 978-1-4233-4351-6
Contact Information