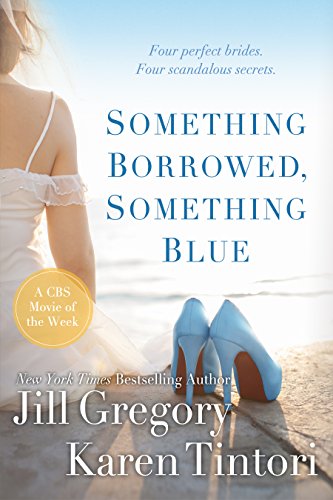 By Karen Tintori and Jill Gregory -- originally published under the pseudonym Jillian Karr
Four glamorous women.  Four perfect brides.  Four deadly secrets.  When Perfect Bride magazine editor Monique D'Arcy decides to showcase three celebrity brides--including herself--plus one lucky Cinderella bride picked from the audience of the Oprah Winfrey Show, none of them can fathom the danger Monique's plan will pose to their upcoming marriages--or to their lives.
Additional Information
Purchase - Follow these links to purchase Something Borrowed, Something Blue from online retailers.
Something Borrowed, Something Blue - A CBS Movie-of-the-Week starring Connie Sellecca, Twiggy, Dina Merrill, Ken Howard and Brett Cullen, based on the book.  Re-runs of the two hour TV-movie appear on cable television.
Also excerpted in COSMOPOLITAN Magazine, Something Borrowed, Something Blue was the staggeringly successful debut fiction collaboration between Karen and writing partner Jill Gregory. Something Borrowed, Something Blue debuted at #9 on the Detroit Free Press Bestseller List, and was nominated for a Romantic Times Reviewer's Choice Award.
Foreign rights sold in hardcover and softcover to the U.K., and in softcover to Korea, Russia and France.  Also published in large print edition.
As research for their actress character Ana, Karen and Jill spent five days in wintry Toronto, Canada, working as extras in the movie Used People starring Shirley MacLaine, Marcello Mastroianni, Kathy Bates, Jessica Tandy and Marcia Gay Harden, and edited by Karen's brother, John Tintori.  You can catch them in the wedding reception scene, wearing poufy '60s hair and white eye shadow rimmed with thick black eyeliner--if you don't blink.

Details
Hardcover Editions

Publisher: Doubleday (1993)
Language: English
ISBN: 

0-3854-7135-1
Softcover Editions
Publisher: Bantam Books (1994)
Language: English
ISBN: 

0-5532-9990-5