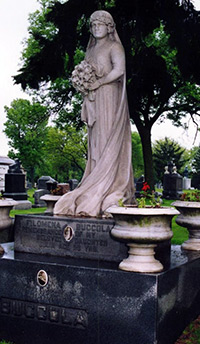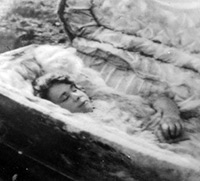 When Dominic Candeloro asked me to contribute a study of an Italian woman from Chicago to Casa Italia's new anthology, Italian Women in Chicago, my immediate thought was "Frances Cabrini."  Just as quickly, I dismissed the Italian-born saint from consideration, certain that another contributor had surely claimed her. I began searching the internet for a little-known Italian woman with a Chicago connection and stumbled upon the mystery of the ghost bride, Julia Buccola Petta, who died in childbirth and who haunts Chicago's Mt. Carmel Cemetery. With a little genealogical research and a bit of sleuthing, I was able to resolve the mystery of her stillborn child. Later, to my surprise, Dominic Candeloro invited me to contribute a second piece to the anthology--one about Mother Frances Cabrini.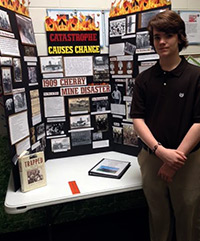 Mega congratulations to Clark Burch-Woodard, who took his eighth-grade Illinois History Fair project on the 1909 Cherry Mine disaster from the fair at St. Walter School in Chicago, on up the ranks to City, and then on to State level, where Clark won a superior ribbon and a top exhibit award. His outstanding project was later displayed at the Abraham Lincoln Presidential Library in Springfield, IL. It is currently on display until the beginning of August, 2015, at The Newberry -- Chicago's independent research library, located at 60 W. Walton.
Clark interviewed me about the disaster early in 2015, and we remained in close contact as he expanded his research, amping up his exhibit with each pass to the next level of competition.  He was so thoroughly invested in his project that Clark even made a trip to Cherry with his mother and grandmother, visiting the library, the miners' cemetery, and the monument dedicated to the 259 men and boys who perished in the worst coal mine fire in US history. Once Clark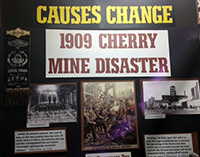 advanced to State level, I connected him with Springfield's Jack Rooney, who grew up in Cherry, and who also heard the stories of an Italian immigrant grandfather who survived the disaster and, like I did, became hooked. I couldn't be in Springfield to cheer Clark on, but Jack was a fine stand-in, even loaning Clark a miner's lamp, Cherry memorial ribbon and several other items from his own extensive collection of Cherry Mine artifacts to enhance his winning display.
"So many people said that this should be a movie!" Clark emphasized -- and I couldn't agree more. Screenwriter Martin Garner has written a brilliant script based on my book Trapped: The 1909 Cherry Mine Disaster, and I'm convinced that this riveting and historically-significant story will one day reach a wider audience, coming to life on the big screen.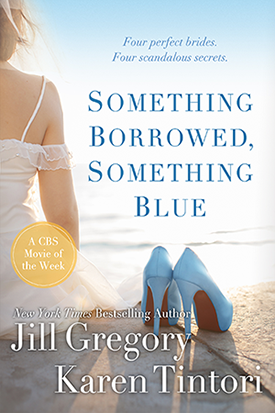 Something Borrowed, Something Blue, the staggeringly successful first collaboration between Jill Gregory and me is finally an Ebook available at Amazon Kindle, iTunes, Barnes & Noble Nook and Smashwords
Four glamoruous women.  Four perfect brides.  Four deadly secrets.  When Perfect Bride magazine editor Monique D'Arcy decides to showcase three celebrity brides--including herself--plus one lucky Cinderella bride picked from the audience of the Oprah Winfrey Show, none of them can fathom the danger Monique's plan will pose to their upcoming marriages--or to their lives.
For these four stunning and happy brides--all ready to say "I Do"--are all hiding secrets that could destroy their hopes and dreams for the future.  As their fairy tale weddings draw near, will all four brides make it down the aisle to their happily ever afters?
Magazine editor Monique D'Arcy has built both her career and her relationship with her fiance on a lie--lovely fashion model Eve is being menaced by a relentless stalker-- gorgeous actress Ana Cates, engaged to a handsome U.S. Senator, is desperate to keep her shameful past from catching up to her--and sweet, hardworking manicurist, Teri, engaged to the nicest guy in the world, must outrun a heartbreaking truth that could destroy all her dreams of happiness.
Excerpted in Cosmopolitan magazine, adapted by CBS for a TV Movie of the Week starring Connie Sellecca, Twiggy, Dina Merrill, Brett Cullen, Ron Howard, Paull Goldin and Shawnee Smith, and nominated for a Romantic Times Reviewers' Choice Award, Something Borrowed, Something Blue was originally published in hardcover by Doubleday and in softcover by Bantam Books.
Foreign rights sold in hardcover and softcover to the U.K., and in softcover to Korea, Russia and France.  Also published in large print edition.
As research for their actress character Ana, we spent five days in wintry Toronto, Canada, working as extras in the movie Used People starring Shirley MacLaine, Marcello Mastroianni, Kathy Bates, Jessica Tandy and Marcia Gay Harden, and edited by Karen's brother, John Tintori.  You can catch them in the wedding reception scene, wearing poufy '60s hair and white eye shadow rimmed with thick black eyeliner--if you don't blink.
Check back for a report on what it's like to be in the movies from the other end of the camera!  Meantime, happy reading.  
Listen in on a lively conversation about the writing life with Karen Tintori, Jill Gregory and the delightful host of Authors on the Air, Pam Stack. You can access our 2016 Authors on the Air broadcast, archived here.