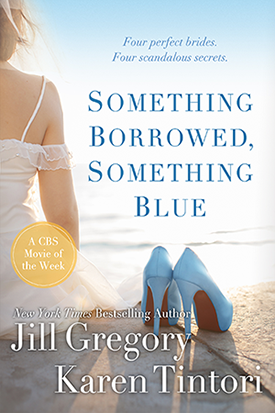 Something Borrowed, Something Blue, the staggeringly successful first collaboration between Jill Gregory and me is finally an Ebook available at Amazon Kindle, iTunes, Barnes & Noble Nook and Smashwords
Four glamoruous women.  Four perfect brides.  Four deadly secrets.  When Perfect Bride magazine editor Monique D'Arcy decides to showcase three celebrity brides--including herself--plus one lucky Cinderella bride picked from the audience of the Oprah Winfrey Show, none of them can fathom the danger Monique's plan will pose to their upcoming marriages--or to their lives.
For these four stunning and happy brides--all ready to say "I Do"--are all hiding secrets that could destroy their hopes and dreams for the future.  As their fairy tale weddings draw near, will all four brides make it down the aisle to their happily ever afters?
Magazine editor Monique D'Arcy has built both her career and her relationship with her fiance on a lie--lovely fashion model Eve is being menaced by a relentless stalker-- gorgeous actress Ana Cates, engaged to a handsome U.S. Senator, is desperate to keep her shameful past from catching up to her--and sweet, hardworking manicurist, Teri, engaged to the nicest guy in the world, must outrun a heartbreaking truth that could destroy all her dreams of happiness.
Excerpted in Cosmopolitan magazine, adapted by CBS for a TV Movie of the Week starring Connie Sellecca, Twiggy, Dina Merrill, Brett Cullen, Ron Howard, Paull Goldin and Shawnee Smith, and nominated for a Romantic Times Reviewers' Choice Award, Something Borrowed, Something Blue was originally published in hardcover by Doubleday and in softcover by Bantam Books.
Foreign rights sold in hardcover and softcover to the U.K., and in softcover to Korea, Russia and France.  Also published in large print edition.
As research for their actress character Ana, we spent five days in wintry Toronto, Canada, working as extras in the movie Used People starring Shirley MacLaine, Marcello Mastroianni, Kathy Bates, Jessica Tandy and Marcia Gay Harden, and edited by Karen's brother, John Tintori.  You can catch them in the wedding reception scene, wearing poufy '60s hair and white eye shadow rimmed with thick black eyeliner--if you don't blink.
Check back for a report on what it's like to be in the movies from the other end of the camera!  Meantime, happy reading.