Many thanks to Stephanie Longo and Ovunque Siamo for the generous praise in her review of Unto The Daughters, which reads, in part:
"This book should be required reading in any Italian-American History class, as well as anyone wishing to study the female's role in the Italian family. This book, while not an exercise in journalism, could also prove beneficial to students of the craft as Ms. Tintori's prior training in the field served her well while untangling her great-aunt's mystery."
"Unto the Daughters proves that all stories of our ancestors deserve to be told, the good, the bad and the ugly…and perhaps that is Francesca Costa's legacy to us all."
You can read Longo's entire review here.
If you are an educator using Unto the Daughters in your curriculum, I would love to know. I have visited several classrooms both in person and via Skype. Grazie tanto. 
Scholastic Magazine brought the 1090 Cherry Mine disaster to the attention of middle grade students in the United States with a full-color cover story in its November, 2019, issue. Highlighting the prevalence of child labor in 1909, Scholastic painted the grim picture of children's daily lives early in the last century via the story of the United State's worst coal mine disaster. School was not an option for children born into poor families, nor from immigrant families who crossed the ocean to work in U.S. coal mines. Every nickel and dime earned by these young boys was desperately needed for daily survival. So parents falsified ages on job applications while mine company bosses looked the other way, and children sat for hours in complete darkness  -- tasked with the boring duty of waiting to open and close tunnel doors to permit mule teams to pull full coal cars to the elevator shaft and then rush the empties back to the miners to refill.
Among the major legal changes resulting from the Cherry Mine disaster was the adoption of stricter national child labor laws.
Seven months after the disaster, the St. Paul Coal Company, which operated the mine at Cherry, pled guilty to nine counts of child labor law violations -- and was fined a total of $630.
If you are a teacher who discussed the Cherry Mine disaster with your students as a result of Scholastic's feature coverage, I would love to hear the children's feedback.
There is nothing like a Book Club, and the one I currently read with is small and phenomenal. The extent to which our exceptional leader researches the authors, locations, incidents, concurrent world history, and nonfiction characters never ceases to amaze us. Her dining room table is a tableau straight from the book, leaving just enough room for the potluck dinner we bring. Recipes derived from the book, of course. The first one to use the powder room insists the rest of us go to check out the quotes or photos rimming the mirror set above the pedestal sink and those that our hostess has taped onto the back of the bathroom door, which faces the commode.
Over the years, I have been lucky to have been a guest at numerous book clubs in the Metropolitan Detroit area. Many, like mine, share lunch or dinner before the discussion, each member bringing a dish mentioned in the book. Next to fan mail, Amazon and Goodreads reviews, sharing several hours with my readers is the most inspiring and uplifting way to feed my muse.
Writing is a solitary and brain-wracking task. Many authors often take a year to write the book that you might read in one sitting. Day after day, it's just us and our keyboards or legal pads and pens. We slog on, often with no feedback other than from that pesky little editor on our shoulders. The one we should ignore. The solitariness is the main reason I love opportunities to share time with my readers, whether in person, by phone or Skype. I've been honored and amazed to hear from you that you've devoured my books -- especially Unto the Daughters -- in one fell swoop. There is no greater joy for an author than to hear that.  During book club visits, I usually share some backstory on the book the club has just read and then suggest that they "do their thing" as if I wasn't there. Some ask me to lead the discussion, but most allow me the joy of being the spider on the wall listening in. I welcome comments and criticism. Constructive criticism was a lesson learned in grade school under the tutelage of the Dominican nuns who sparked my love of writing. How else can I learn to better my craft than by listening to the honest assessment of my work by people who love to read?
While I have forgotten to take photos with many book clubs over the years, mainly because we've been so engrossed in talking books that I forget to get a group shot, I do have some memories to share. If I have visited with your club and you have photos that are missing from my collection, please email them to me and I'll be happy to add them here. Of course, I have no group photos from clubs with whom I have visited by Skype or by phone, but am always eager to chime in if your meeting date is clear on my calendar. Please reach out and let's talk books!
Currently, my group is reading A Day in June by Marisa Labozzetta -- and I'm dithering about whether to make something Italian or something Jewish for book club. (I ended up making aglio olio -- recipe in my Blog.)
Happy reading!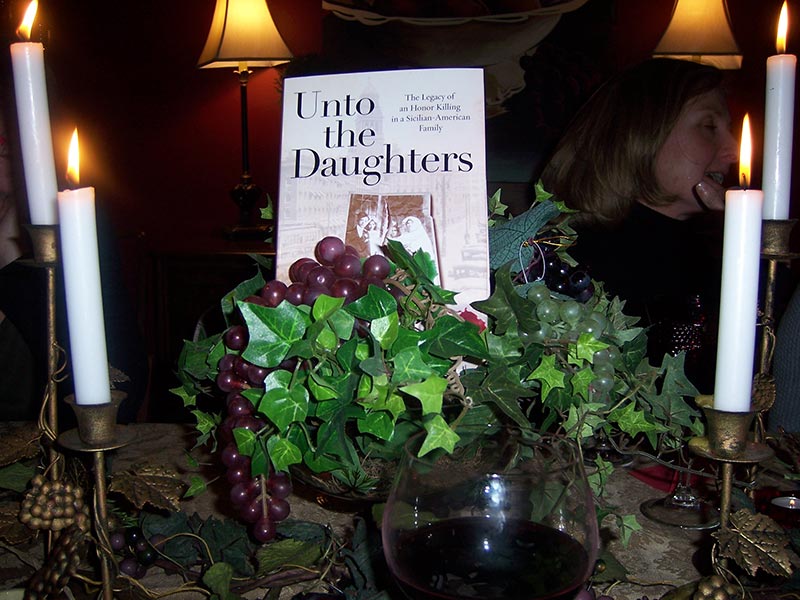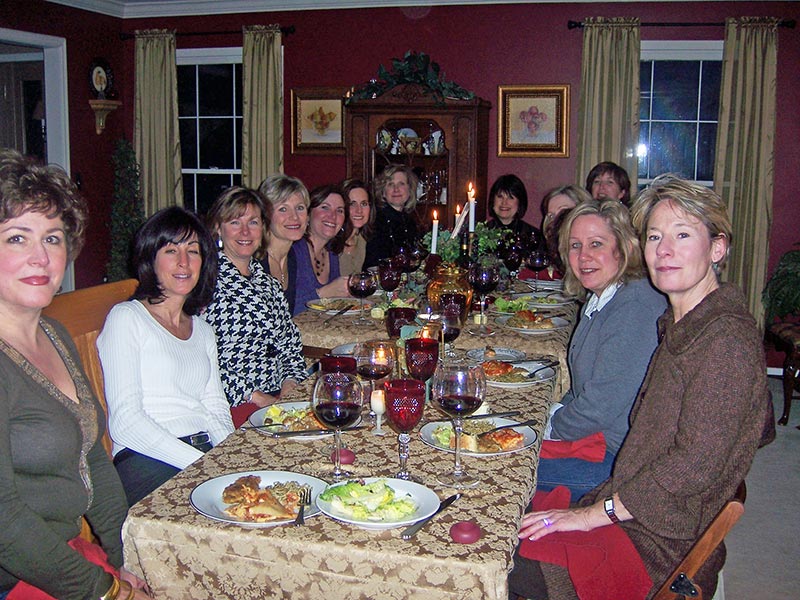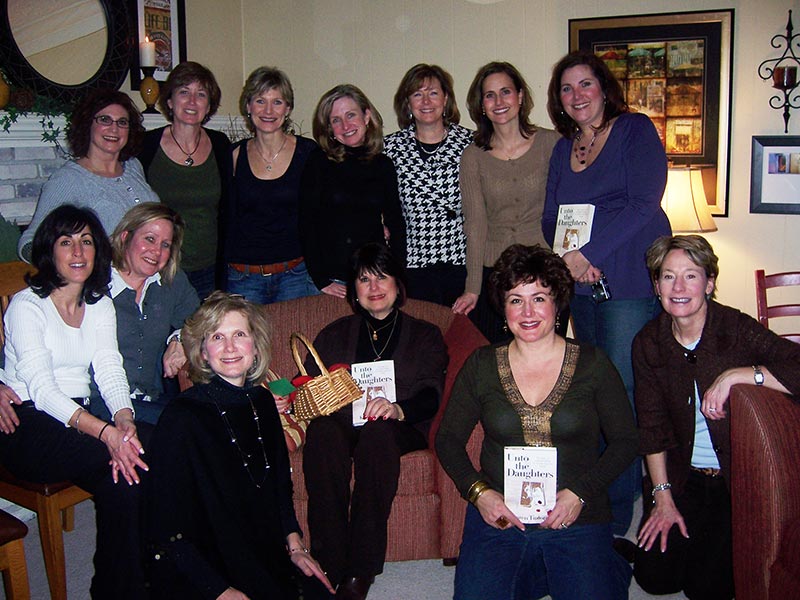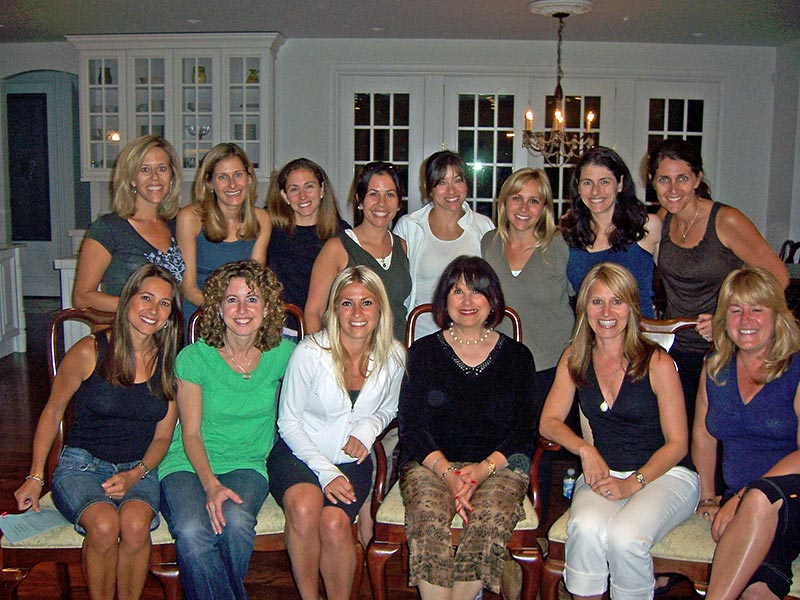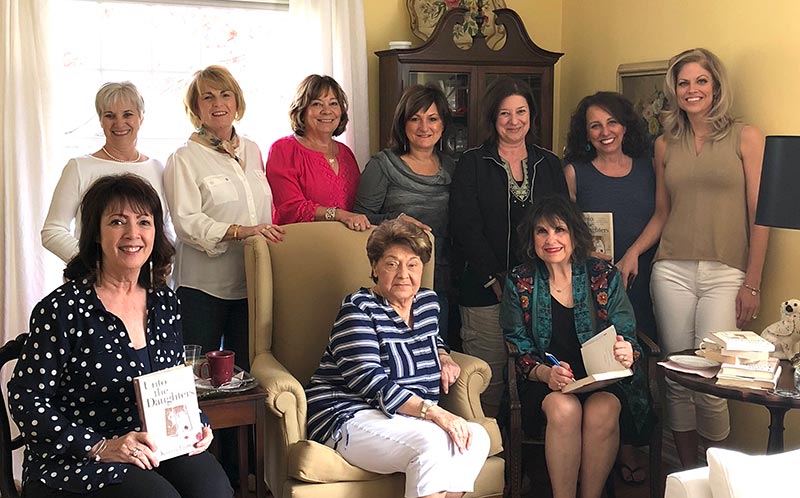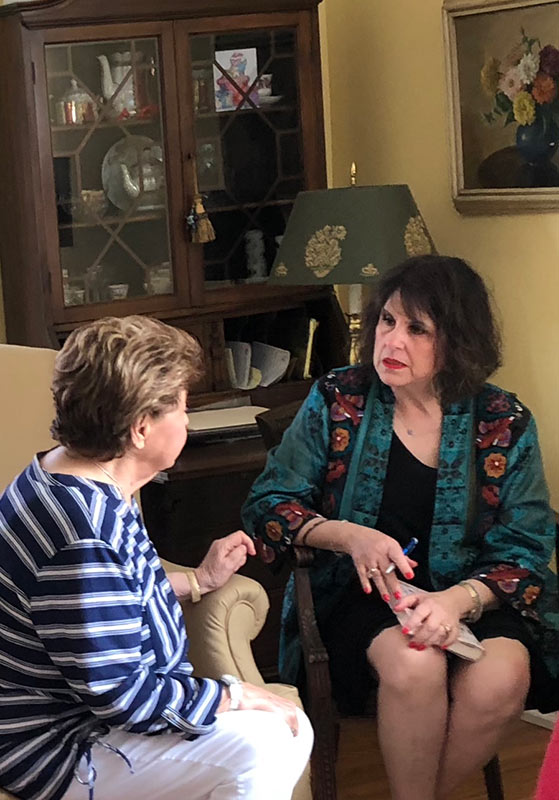 When I was a child, May was the month of bright yellow forsythia, fuzzy fat pussy willow, and the May altars my classmates and I concocted from shoe boxes disguised with tinfoil and adorned with doilies, flowers real and artificial, and glow-in-the-dark or dashboard-sized statues of the Virgin Mary. The time of First Holy Communions and, ultimately, the pageant to crown Mary's statue at the side altar of church, May was probably the month when I first learned "Lovely Lady Dressed in Blue" by Mary Dixon Thayer, a poem/prayer I memorized in grade school.
This May, I am thrilled to share the current issue of Ovunque Siamo, the online journal of New Italian-American Writing edited by Michelle Messina Reale, in which my Madonne Nere inspired riff on Thayer's poem appears. 
Here is a taste of my LOVELY LADY, DARK OF HUE,:

Lovely Lady, dark of hue, 
Teach me how to pray.
A god was born your little boy, 
Tell me what to say

When you sat him, as he grew, 
Gently on your knee
Did you sing to him the way 
My mother sang to me?

Did he hold your hand at night? 
Did you ever cry 
Telling him stories of the world? 
Ah! Then did he pry
The deepest secrets from your soul —
The name of every herb,
Of every sacred flower 
You sowed to save the earth?

Lovely lady, darkly hewn
From an ancient tree....
Intrigued? Please click on the following links to read LOVELY LADY, DARK OF HUE in it's entirety, and the spectacular May, 2019, issue of Ovunque Siamo.